Outgoing Chairman Praises TRSA's COVID-19 Response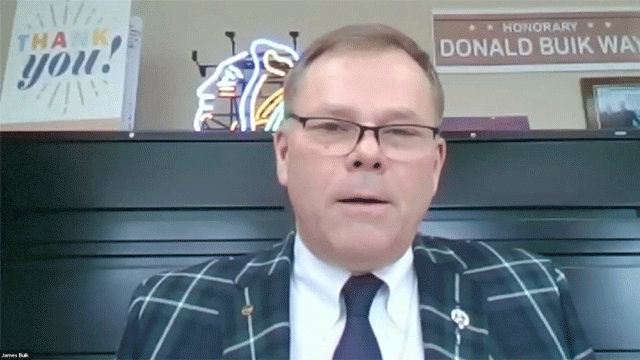 In remarks at TRSA's recent hybrid live/virtual Annual Meeting in Alexandria, VA, outgoing Chair Jim Buik spoke with pride and appreciation for TRSA's response to the COVID-19 pandemic that struck in mid-March and continues today.
"The staff has done a remarkable job on our behalf," said Buik, president of the Roscoe Co., during the association's 107th Annual Meeting on Oct. 22, which drew nearly 20 people to the Westin Alexandria and another 40 who attended online. Buik spoke online from his office in Chicago "out of an abundance of caution" since a team member had inadvertently exposed him to COVID-19. "If ever there was a time that TRSA has risen to the occasion, we've certainly seen it," he said. "Joe (Ricci, TRSA president) and his team have completely re-engineered how they deliver value to us on the fly. A number of us had to do that as well. It's just amazing to me to see how well TRSA has been operating and the benefits that I've seen as a member. Second to none. That's for sure."
Adding to the complexity of TRSA's response, the impact of the pandemic has varied significantly by sector. Industrial operators, like Buik, in many cases were down at one point by 10%-15%. Most have since recovered or even grown as new market opportunities have emerged, such as personal protective equipment (PPE), hand sanitizer, additional cleaning supplies, etc. Many operators initially had thought that demand for healthcare textiles would spike as a result of COVID-19. However, disposable PPE shortages, coupled with deferrals of voluntary procedures and limited use of linens by COVID-19 patients fueled losses for most healthcare operators. While the healthcare situation in recent weeks has stabilized, hospitality and food-and-beverage (F&B) laundries continue to struggle amid indoor-dining restrictions and reduced business and leisure travel. "Our brothers and sisters in hospitality and F&B, while they've recovered some, they're the ones that are definitely suffering the most," he said.
In summarizing the association's response to the crisis, Buik noted that "TRSA has hosted 50 webinars, town halls, roundtables and benchmarking surveys to really spread the word to our members on how we can incorporate those best practices. Members have accessed these resources." He added that TRSA went out of its way early on in the crisis to serve as a clearinghouse for information from government agencies, such as the Centers for Disease Control and Prevention (CDC). "I can't tell you how in the early stages of this pandemic, how helpful it was taking information that was readily available at the CDC and then repurposing that and sending it out to our members," Buik said. As a single-plant operator, he added, "I don't have hygiene people. I have an HR team member, but it was just overwhelming. I'm grateful that we had TRSA."
Buik also cited TRSA's Strategic Change Initiative, including a Strategic Industry Town Hall on June 23 that drew 120 online attendees and led to the creation of an Industry Looking Forward publication compiled from quantitative and qualitative research. He cited the "careful stewardship" of consultant Eric Kurjan in facilitating this process, and praised his successor as Chair, Noël Hammer Richardson, for leading the association's strategic rethink.
Finally, when COVID-19 passes into history, it could offer operators some unanticipated benefits through an added emphasis on hygiene and cleanliness in the products and services that businesses offer to the public. In addition, new concerns from nurses, restaurant patrons and others could lead to curbs on home washing of uniforms and an expanded use of reusable table linens. TRSA's foresight in establishing the Hygienically Clean certification program in 2011 – nine years before COVID-19 hit – also has positioned the industry (and Roscoe) for growth by reassuring customers that certified laundries hew to higher standards for eliminating microorganisms in textiles. "The certifications that TRSA provides allowed Roscoe to really up our game to a new level," Buik said. "So, again, I can't thank Joe and his staff enough for coming up with the certification process because it's truly been amazing."