Renewed Optimism in Latest Uniform & Linen Rental Survey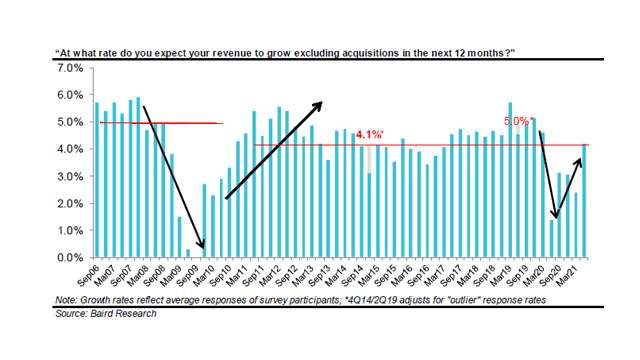 Several key performance indicators trended into positive territory and the outlook for solid business growth rose among respondents to the latest Uniform & Linen Rental Survey for June 2021 (second quarter of 2021). The quarterly survey is conducted by Robert W. Baird & Co., in conjunction with TRSA.
Key uniform rental survey findings include:
Rental Revenue Trends: 25% of respondents fell short of internal revenue projections for the quarter compared to 30% beating expectations, the first positive spread since March 2020.
Add/Stops: Employment-driven expansion at existing accounts (i.e., Add/Stop Diffusion Index) improved to 65.0 in June, its best post-COVID reading since March 2020. This reading was better than expected against the backdrop of modest recent hiring gains.
No-Programmers: Further rebound from fourth quarter 2020 low with the diffusion index now at 62.5, up from 57.5 in March. This metric has only been negative three times in the past 10 years (twice in 2020).
Growth Outlook: Industry consensus now sees nearly 4.2% organic growth over the next 12 months, nearly double last quarter's 2.4% outlook and in the approximately 4-5% range pre-COVID.
Key linen rental survey findings include:
Rental Revenue Trends: 25% of respondents cited rental revenue trends falling below expectations in the second quarter of 2021 with 25% also citing revenue near expectations and 50% above expectations. This is the first positive spread of outperformance post-COVID.
No-Programmers: No-programmer interest held stable at a neutral 50.0 reading, similar to first-quarter 2021. Like uniform rental, this index has consistently been in expansionary (>50) territory, with the exception of COVID.
Growth Outlook: Forecasted 12-month revenue outlook improved to +5.5%, well above last quarter's 2.8% forecast and the highest rate of forecasted growth in the survey's history (since December 2015 for this sector).
If you have questions or would like to participate in the survey, contact Robert W. Baird & Co.'s Andrew Wittman at awittmann@rwbaird.com or Justin Hauke at jhauke@rwbaird.com. Click here to view the latest survey results.