Ricci to Share Industry Insights on Upcoming Webinar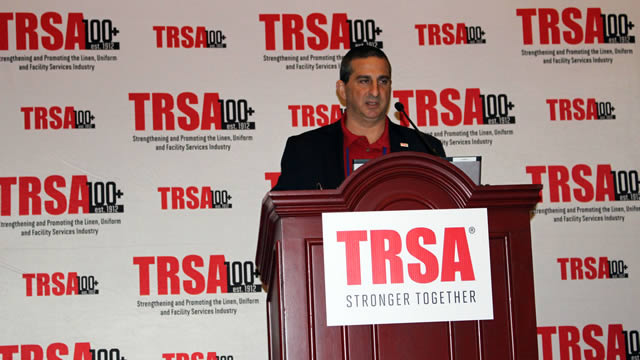 Anyone with a financial interest in linen, uniform and facility services is welcome to participate in "State of the Uniform Rental Industry," a Goldman Sachs & Co. interactive webinar. Set for 1 p.m. EDT on Thursday, June 17, the webinar will consist of an interview with TRSA President & CEO Joseph Ricci.
The webinar is part of Goldman Sachs' "expert calls" series in which the company's investment analysis team periodically brings investors up to speed on the latest issues facing various industries. Meant mostly to serve the firm's internal partners and clients, these calls are open to any stakeholder in the industry who can benefit from and enrich the dialogue. They are closed to the media. Recent industries covered have included pest control, child care and cash handling.
Ricci will describe the impact of COVID-19 on the linen, uniform and facility services industry and its ensuing recovery, assessing key drivers such as employment shifts and ancillary services marketing. He'll draw on TRSA's Business Pulse surveys that have measured impacts on members and portrayed their recovery tactics, indicating when various industry segments may return to pre-COVID revenue levels.
Goldman Sachs will inquire about Ricci's views of automation and digitization in the uniform sector. He'll be asked about potentially positive impacts of the pandemic, such as permanent increased demand to provide hygiene products (hand sanitizers, sanitizing sprays). Healthcare scrub rental is another topic of interest, given its vast direct purchase market.
Also expected to be covered are uniform laundering practices, sustainability and the long-term annual revenue growth potential for uniform rental, including non-programmer markets.
To access the webinar by phone, dial 877.208.2954, participant code 494745, or access the webcast online at the following link: https://event.webcasts.com/starthere.jsp?ei=1469123&tp_key=ff90ed5f86.