'Ride for Research': Ecotex Raises Funds to Fight Cancer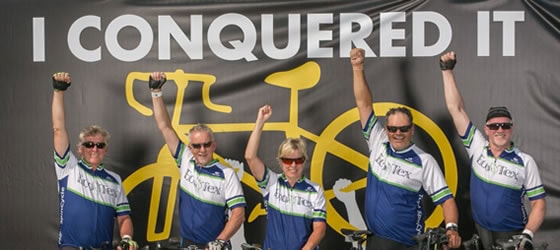 Ecotex Team Spin Cycle rode more than 155 miles over two days, from Vancouver, British Columbia, Canada, to Seattle, to raise funds for cancer research. 2017 was the third year the Ecotex team participated in the Ride to Conquer Cancer. During those three years, and thanks to their sponsors and donors, Team Spin Cycle has raised $136,743 to support world class, breakthrough research, according to a news release.
The team that represented Ecotex Healthcare Linen Service, Seattle, joined 2,000 riders in the Ride to Conquer Cancer on Aug. 25-26. The participating teams collectively raised $8.3 million for cancer research.
"After miles and miles of training, and hours of preparation, it was an incredible feeling to ride across the finish line knowing we had made a difference," said team captain Randy Bartsch, CEO of Ecotex. "Riders help each other and also feed off the fantastic support we get from the public and event volunteers. The Ride to Conquer Cancer challenges you on many levels and you see that pride in meeting those challenges on the faces of every rider as they finish."
Team member Roger Friesen said, "It was fantastic!" He added that, "When I thought of friends, relatives and participants who had beaten cancer, I couldn't help but be motivated."
The team thanks its sponsors BMO Harris Bank, Medline, Pellerin Milnor, Ecolab and Kannegiesser ETECH, plus the many donors and friends who helped power the team to its goal, the release noted.