Safety Boost: Incentives and Recognition Programs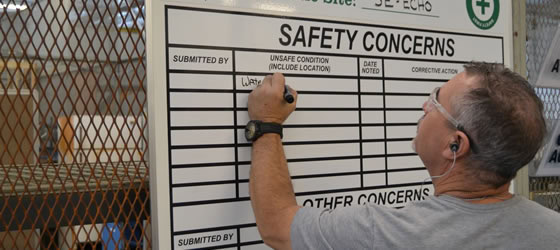 TRSA recently hosted a webinar detailing best practices for incorporating safety recognition programs and boosting the safety culture in your linen, uniform and facility services company.
The hour-long presentation, titled "Using Incentives and Recognition Programs to Drive Behavior Based Safety Success," was hosted by Jon Neubauer, director of safety organizational change, EnPro Learning System, Charlotte, NC. This is not the first time EnPro has detailed its successful safety program on behalf of the TRSA membership. Joe Wheatley, corporate director of risk management and EHS affairs at EnPro Industries Inc., shared with Safety Summit attendees this April in Chicago the corporate philosophy that led EnPro to receive recognition by EHS Today magazine in 2016 as one of America's safest companies.
Neubauer took a look at the various reasons for offering employee incentives when it comes to safety, including extrinsic rewards such as money and recognition, as well as intrinsic rewards including a sense of meaning, progress, personal development, and fulfillment of a personal value or ethic. Rewards also can boost a person's image among co-workers. Neubauer pointed out that people are motivated to fit in, and when the community as a whole embraces something, each individual has the motivation to be part of it as well.
TRSA has an on-demand learning library that will allow you to "live stream" all of the association's webinars, including this latest edition on incentive programs and building a safety culture. TRSA members can purchase webinars, and other training and educational resources at a reduced member price. Click here to visit TRSA's On-Demand Learning portal to view this webinar and more.
TRSA's next webinar, titled "Hygiene of Domestic Laundering – Evaluating Risks & Opportunities," is scheduled for Oct. 18 at 2 p.m. EST. The hour-long presentation will be hosted by Dr. Katie Laird, senior lecturer in microbiology in the school of pharmacy and head of the infectious disease research group at De Montfort University. Please note the webinar has been prerecorded and is 16 minutes long. There will not be a live question-and-answer session at the end of the presentation.
Click here to register for the webinar. Registration is free for TRSA members. Thanks to Monarch Brands, Philadelphia, for its support of TRSA's webinars.