Seminar Explains How Hygiene Certification Applies to All Markets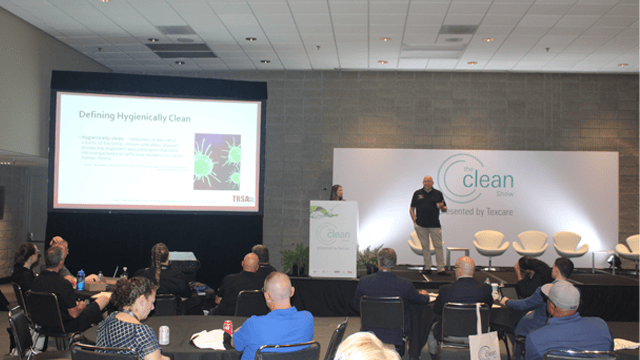 Linen, uniform and facility services managers and executives at a TRSA luncheon presentation July 30 gained insights on how hygiene certification concepts refined for healthcare laundry can be applied to service other industries. Participants at this Clean Show session learned that although customers in other businesses may not require such certification as hospitals do, earning the TRSA Hygienically Clean designations for other industries sends a powerful message of credibility to these markets.
Delivering this presentation at the Clean Show were Samlane Ketevong, TRSA senior director of certification and accreditation; and Bob Corfield, CEO, Laundry Design Group, which manages inspections for TRSA certifications.
The presentation noted that regardless of what customers are served, a TRSA Hygienically Clean certification monitors a laundry's complete textile processing cycle, from handling and transporting soiled textiles to in-plant processing and delivery back to the customer.
Just as the Hygienically Clean Healthcare standard guides laundry operators in documenting policies and procedures that they follow to produce quality linens, standards for Hygienically Clean Food Safety, Food Service and Hospitality do the same for producing the level of quality needed for food-manufacturing establishments, restaurants and hotels, respectively.
In each case, a laundry must create quality-assurance (QA) manuals to demonstrate compliance with various requirements for facility layout, personnel training and OSHA-required practices. A laundry facility seeking Hygienically Clean certification must pass an independent, third-party inspection.
Inspection confirms the laundry's dedication to compliance and processing using industry best-management practices (BMPs) as described in the facility's QA documentation. The manual is the focal point for inspectors' evaluation of critical control points that minimize risk.
Hygienically Clean inspections confirm that:
Employees are properly trained and protected
Managers understand legal requirements
Practices are OSHA-compliant
Physical plant operates effectively
Hygienically Clean certification is maintained on a three-year basis. A successful inspection and passed microbiological testing battery initially certifies the facility. Such testing must then be completed on a quarterly basis. If significant process changes are made (major washing equipment or chemistry shifts), additional microbiological testing on the two most prominent healthcare textile items processed is required to confirm that the facility remains in compliance.
The presentation discussed how non-compliance issues or non-complying test results must be reported to TRSA. Inspectors may make a Corrective Action Request (CAR), giving a facility 30 days to respond. In the event of a test failure, the facility must contact TRSA, immediately select a sample of the textile item that failed for re-test, and ship it by next-day-air to the same laboratory that conducted the non-complying test. Test results must be provided to TRSA as soon as they are available.
The payback for laundries that get Hygienically Clean certified include:
Receiving recognition of certified companies' commitment to cleanliness through laundry inspection and third-party, quantitative biological testing
Obtaining a positive reflection of laundry-staff capabilities​
Receiving recognition of a substantial effort to ensure hygiene and safety​
Adding credibility to all you do​
The presentation also discussed TRSA Clean Green certification, a companywide designation (can't be awarded to individual plants in a chain) for sustainability and the Certified Professional Laundry Manager (CPLM) program, a designation which is awarded to individuals who meet this certification's criteria.