'Thank You': JENSEN USA Updates on Disaster Recovery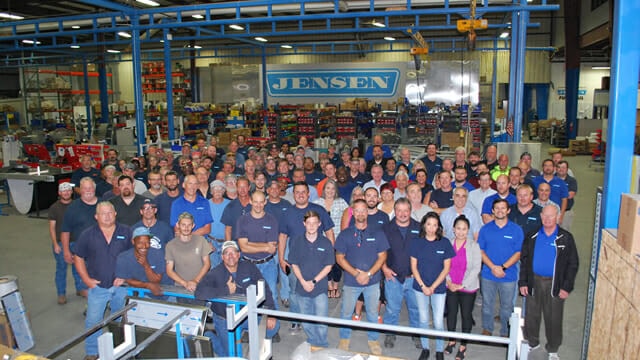 After sustaining damage to its roof when Hurricane Michael made landfall in the Florida panhandle on Oct. 10, TRSA associate member JENSEN USA Inc., Panama City, FL, recently reported that its operations have been running at close to full production since Oct. 29, according to a news release.
Simon Nield, president, JENSEN USA, issued the following statement: "All employees are safe and well, and all but a few have returned to work so far. We have some building issues to work around but we can safely accommodate everyone, and we have full power and internet services. Unfortunately, our main switchboard is still not operational, so please continue to call 850.320.7860 and follow the prompts. Alternatively, email is now fully operational and so is our spare parts website at www.jensenusa.com."
Nield closed by adding, "Thank you very much for your continued patience and kind messages of support. Best regards from team JENSEN USA!" To read more about the storm's effect on JENSEN's U.S. operations and the company's disaster plan, click here.
If a disaster strikes your area, TRSA has several resources that can help its members in the linen, uniform and facility services industry. Click here to access a booklet that TRSA prepared with a crisis-response expert on recommended professional practices for disaster planning. This publication offers laundry operators a guide to developing tactics associated with successful disaster-response efforts. Topics include planning, risk identification, operational issues, emergency plan-implementation timing, crisis communications, business-recovery planning and more. The booklet also includes numerous examples of how linen, uniform and facility services companies have applied these principles to deal with real-world disasters.
In addition to this booklet, TRSA also has a library of articles to help laundry operators and suppliers deal with natural disasters. To read more, click on the links below:
Prep for Recovery: Diverting Doomsday
Preparedness Planning: Three Vital Steps
When the Next Katrina Blows into Town … Will you be Ready?
Emergency Preparedness: Summit Highlights