TRSA Presents Webinar on Arc Flash and Electrical Safety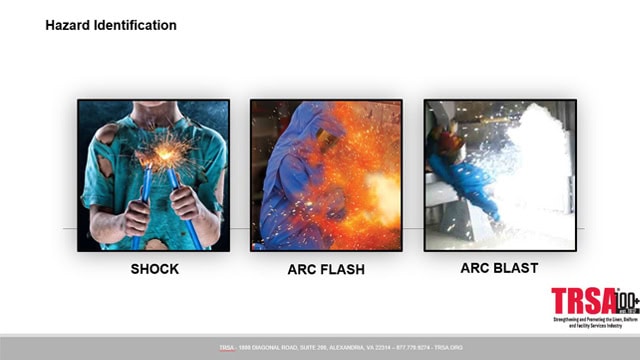 Click Here to View this Webinar
Stephen Herzig, COO at Herzig Engineering, Kansas City, MO, presented a recent webinar on electrical safety and arc flash events. During his hour-long presentation, Herzig emphasized the importance of meeting workplace safety standards set by the U.S. Occupational Safety and Health Administration (OSHA).
OSHA requires employers to understand industry standards and protect workers from workplace hazards such as arc flashes and shocks. OSHA can cite companies that fail to meet any of the NFPA 70E 2018 standards. Failure to follow safety procedures and best practices can create dangerous safety hazards, and put employees and companies at risk.
Electrical injuries are the second most costly workers' compensation claim. Less than two percent of total workplace injuries are electrical injuries, but they account for 28-52% of total medical costs. Electrical injuries can be severe and even fatal. A study on occupational injuries from electrical shock and arc flash events found that 57.5% of employees who suffered electrical injuries attempted to return to work on average 107.7 days after the injury. Only one-third successfully returned to work 59.38 days after the injury.
Electrical safety training, removal of occupational hazards, risk assessments, frequent audits, warning labels and proper use of personal protective equipment (PPE) can mitigate risk of injury. Occupational hazards that increase risk of an arc flash include antiquated or improperly maintained equipment, non-insulated or improper tools, poor workmanship, improperly rated meters, dropping metal enclosures into circuits, accidentally leaving tools in enclosures, forcefully opening buckets, and snakes, spider webs and mice burrowing in equipment. Herzig emphasized several common hazards including code violations (especially with temporary power sources), unaddressed leaks, old inventory that needs to be replaced or retested, buildups of dust, and poor grounding and bonding practices.
A risk assessment identifies hazards, estimates the likelihood of injury and the potential severity, and determines proper protective measures (including appropriate PPE such as arc-rated clothing). Field work should be audited at least once a year to ensure that electrical safety procedures are properly followed. Information on warning labels should be reassessed every five years and updated if necessary.
Herzig Engineering offers an arc flash analysis to collect and review data, and provide site training. Other Herzig Engineering electrical and safety services include training, lockout/tagout procedures, and electrical safety, preventative maintenance and National Electric Code audits.
TRSA offers more than 100 industry-specific professional-development and training programs on a range of issues including emerging regulatory/compliance issues, safety, best practices and strategies for enhancing productivity. Go to www.trsa.org/ondemand to visit TRSA's On-Demand Learning Portal to view this webinar and more.