TRSA Webinar Highlights Industry Internship Program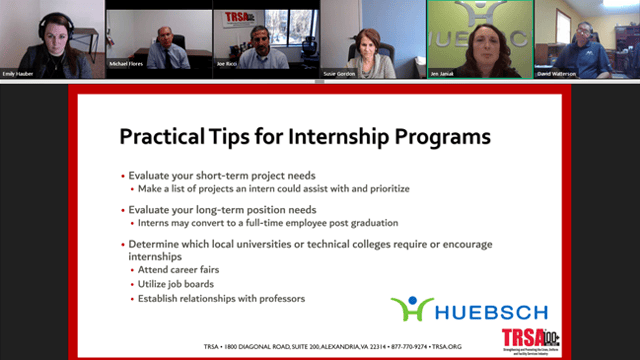 TRSA kicked off its 2022 webinar offerings with a Jan. 18 presentation titled "Interns & the Industry," providing an overview of the association's internship program and how it has benefited several TRSA operator and supplier partner members.
TRSA President & CEO Joseph Ricci started the hour-long webinar with an overview of internship programs and their benefits to linen, uniform and facility services companies. TRSA's Susie Gordon then discussed in detail TRSA's industry internship program and how companies can recruit interns through Handshake, an online recruiting platform for businesses to connect with college students seeking internships and other opportunities.
Several TRSA member companies discussed how the internship program benefited their business. Joining the call to share their experiences were Michael Flores, vice president of human resources, Prudential Overall Supply, Irvine, CA; Emily Hauber, director of communications, CITY Laundering Co., Oelwein, IA; Jen Janiak, HR & operations manager, Huebsch Services, Eau Claire, WI; and David Watterson, vice president of field and international sales, M+A Matting, LaGrange, GA.
If you have any questions about TRSA's industry internship program, contact Gordon at sgordon@trsa.org. For more information on the program, click here for an article that ran in the Dec. 13, 2021, edition of Textile Services Weekly.
TRSA offers more than 100 industry-specific programs that provide professional development and training on a range of issues, including regulatory/compliance matters, safety, best practices and strategies for enhancing productivity. Go to www.trsa.org/ondemand to visit TRSA's On-Demand Learning Center to view this webinar and more. Visit www.trsa.org/calendar for a complete list of upcoming webinars and events.