Unitex Breaks Ground on New Plants in Lawrence, MA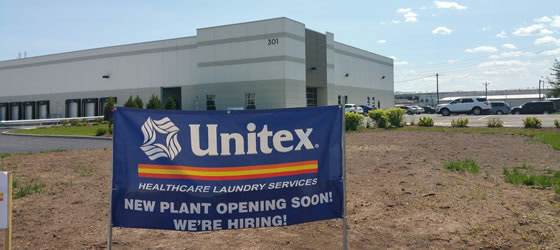 Currently operating 11 laundry processing facilities and one garment warehouse in the Northeast, Unitex, Elmsford, NY, recently announced that it's expanding into Massachusetts, where the company is breaking ground on its 12th and 13th plants in Lawrence, according to a news release.
"In reviewing a variety of options for new plant development in New England, Lawrence became an obvious choice once we had an opportunity to meet with the Mayor and his leadership team," said Robert Potack, CEO of Unitex. "The support and collaborative approach that they took in understanding the goals of our project was apparent from our first meeting. We are very excited to be moving ahead with our new plant development here."
The new 188,000-square-foot space will house two plants, one specifically dedicated to serving hospitals and nursing homes and the other servicing outpatient medical facilities. The plants' investment will exceed $30 million, employ 350 local people and are projected to open in the summer of 2020.
"Innovation and enhanced efficiency will allow us to continue to be the low-cost producer in the market and high-value provider to our clients," said Michael Potack, Unitex chairman. "We are excited to get this project underway and we are thankful for the welcoming atmosphere that Lawrence has provided."
David Potack, president of Unitex adds that, "Our new facilities will help us provide high-quality products and excellent service to our current and prospective clients in a more local setting – both in the outpatient and inpatient healthcare space. By adding capacity to our system, we have the ability to significantly expand our reach in Massachusetts and throughout New England."