Win-Win: Faultless, Feds Fuel Growth in St. Louis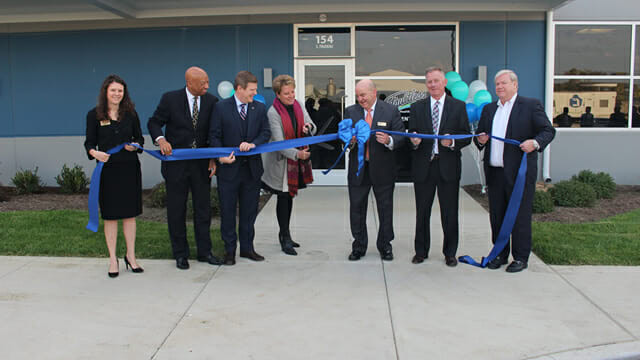 Faultless Laundry Co. formally opened its new 83,000-square-foot laundry during a ribbon-cutting ceremony on Oct. 30. The event drew 30-plus civic and company officials, vendor representatives, friends and family members to the new plant at 154 S. Trudeau St., on the southern edge of downtown St. Louis.
The plant, which began operating in July, represents a tale of civic teamwork on the part of both the company and local officials that's now paying dividends for a city that's faced its share of urban challenges in recent years. In essence, Faultless' new plant replaced one that opened in 2012 a few miles north at 1615 N. 25th St. Unfortunately, this property was part of a 97-acre site that the federal government wanted to build a new Western headquarters for the National Geospatial-Intelligence Agency (NGA). This organization serves as a combat support agency for the U.S. military and the U.S. intelligence community. Its mission is to collect, analyze and distribute geospatial intelligence in support of U.S. security interests.
The stakes? Roughly 3,100 federal jobs with an average salary of $98,000 per year, according to Otis Williams, executive director of the St. Louis Development Corp. (SDLC), a not-for-profit organization that seeks to boost jobs and investment in St. Louis. "Needless to say, we had to negotiate," said Williams, a retired U.S. Army colonel, who spoke during the ceremony in a tent pitched in front of the new blue-and-white Faultless building. "We made it through that, so we ended up with this fine facility that is behind us." Williams thanked Faultless for working cooperatively with city and federal officials to help secure the NGA deal. Faultless' efforts enhanced those of local officials to keep the agency in the "Gateway City to the West," rather than having it relocate its headquarters across the Mississippi River to Illinois, or other locations.
"We could not have done it without the cooperation of the Faultless team," Williams said, noting that city officials now expect to turn the parcel over to the federal government by the end of this year, including the land where the former Faultless plant was located. That site was surrendered through an "eminent domain" action. The government compensated Faultless for its loss through a negotiated settlement. Figures were not disclosed.
Williams recalled seeing the 25th Street plant in operation in 2015. He realized immediately that making a deal that would keep both Faultless and the NGA in St. Louis would require a vigorous effort by all parties. He commended Faultless owners Susan Witcher and Mark Spence and their staff for their efforts, adding that the new plant on Trudeau Street ensures that the company will continue providing jobs and economic opportunity in St. Louis. "I'd like to thank all of you for being here today, but also because we have a new facility that is continuing to operate here in the city. And for that we appreciate you. Thank you."
Spence returned the compliments, noting that Kansas City-based Faultless opened its first plant in St. Louis in 2001. Since then, the city of St. Louis has provided an excellent environment for Faultless to grow its healthcare linen business. Along the way, however, the company has faced challenges. Foremost among these was the Loy Lange Box Co. boiler explosion on April 3, 2017. That incident claimed the lives of three Faultless employees when a large pipe burst through the roof of a nearby cardboard factory. It flew 600 feet through the air. When it landed, the pipe pierced the roof of the offices of a second Faultless plant located at 2030 S. Broadway. This plant is about a five-minute drive from the newly opened Faultless plant on Trudeau Street.
Despite this disastrous mishap, plus the challenges of relocating its 25th Street plant to Trudeau Street, the Faultless team believes the effort was worthwhile. "We continue to try to look at the optimistic side," Spence said. "You know, with all the pessimism about crime and things going on, great things are going on behind the scenes, and we've been able to be a part of it. At our board meeting, we were saying you can look at it two ways. A laundry helped save 3,100 jobs. If you connect all the dots, it's pretty significant."
Witcher said she too is glad that Faultless collaborated with local officials to keep the NGA Western headquarters in St. Louis. "We were happy to work with the city and support the city and the state and the federal government and their endeavor for that project," she said. Witcher also thanked her staff, and particularly Staff Engineer Jerry Gile. "Mark and I would also like to add that we are really proud of the entire Faultless team," Witcher said. "Not an easy six months … But we have a special shout-out to recognize Jerry Gile for the value that he brought to the project."
The new Faultless plant is worth recognizing as well. During a tour of the new facility, we saw two distinct plants in one building. One 40,000-square-foot section is dedicated to acute-care linens and garments for hospitals. A second 23,000-square-foot section is dedicated to outpatient clinics, surgicenters and doctor's offices – most of which are connected to Faultless' hospital clients. Another 25,000 square feet is taken up by a mechanical/boiler room, offices and storage space, including a second-floor mezzanine area.
Witcher says the new plant is in the process of certifying to both TRSA's Hygienically Clean Healthcare and the Healthcare Laundry Accreditation Council's standards. The Broadway plant is already certified. Certifying the Trudeau Street plant as well will help ensure the safety of the textiles that Faultless provides to patients and healthcare professionals. The new plant employs 110 people on one shift, six days per week. It's currently processing 55,000 lbs. a week in the outpatient area and 210,000 lbs. per week in the acute area.
Production highlights include:
A custom-made soil sort system from Kannegiesser ETECH with 34 sorting stations
A custom engineered air-handling system, designed for up to 10 air changes per hour, in conjunction with a Building Automation System platform, for full control of plant utility consumption.
A cart washer from Automation Dynamics with an "instant kill" chemical wash to ensure that no microorganisms survive the cleaning process once the cart leaves the chamber.
Three 900 lb. washer/extractors from Ellis Corp.
12 mod, 242 lb. Kannegiesser ETECH tunnel washer with 8 Kannegiesser ETECH 250 lb. dryers.
A "cake breaker" from Kannegiesser ETECH that gently presses cakes on either side and then drops them several feet down into a chute for movement to finishing with less tangling of textiles
10 small-piece folders from Foltex
Ironing, feeding and folding equipment from Chicago and JENSEN
A chemical injection system featuring peracetic acid bleach from Gurtler Industries Inc.
Watch for follow-up coverage in Textile Services magazine.