Workplace Culture: TRSA Wraps Up DEI Webinar Series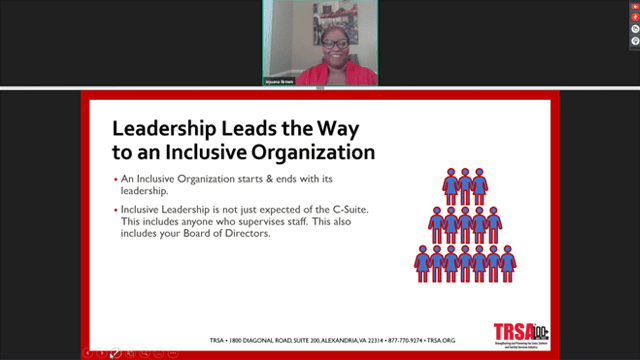 TRSA recently completed the final installment of its two-part webinar series titled "Racial Equity and Workplace Culture." The series was presented by TRSA's Diversity, Equity and Inclusion (DEI) Committee.
Jejuana C. Brown, M.Ed. CDP, hosted the two-part series with the second installment airing on May 13. The series kicked off on May 6. To read a recap of the first installment of the series, click here.
The May 13 presentation focused on power dynamics in an organization and inclusive leadership. Brown pointed out several characteristics of inclusive leaders, among them:
Team Builder
Empowers Others
Exhibits Awareness
Acknowledges Personal Bias
Bridge Builder
Shows Empathy
Cultural Awareness
Acknowledges Mistakes
Forgives Mistakes and Errors
Models Inclusive Behavior Traits Consistently
After pointing out the traits of inclusive leadership, Brown made the business case for this type of leadership and noted its impact on employee satisfaction and retention. She also noted several best practices for handling inclusive conversations in the workplace.
Both parts of the DEI webinar series are available in TRSA's On-Demand Learning Center. Visit www.trsa.org/ondemand to access more than 150 industry-specific professional development and training webinars, videos and e-learning courses on a range of issues including emerging regulatory/compliance issues, safety best practices and strategies for enhancing productivity. Many of the training resources are free to members.
Additionally, check out TRSA's webinar calendar for a complete list of upcoming webinars and events. TRSA's next webinar presentation, titled "Production and Maintenance Manager Job Analyses," will air on May 20 at 11:30 a.m. EDT. Click here for more information and to register for the hour-long webinar.