Bates Troy Employee Honored by NYSID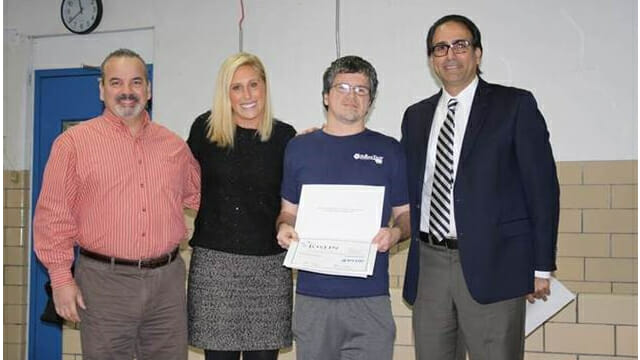 Bates Troy Inc., Binghamton, NY, employee Michael Kildare recently was recognized with a Joslin Award by New York State Industries for the Disabled (NYSID) for his outstanding performance on Preferred Source contracts, according to a news release.
Through the Preferred Source Program, Bates Troy has met the needs of numerous government healthcare locations while opening employment doors for people like Kildare, who has not missed a single day of work since he began a year ago. In this relatively short period of time, Kildare has learned to operate many of the folding machines and is very efficient in the hand-fold process.
In addition to working with Bates Troy during the day, Kildare also helps his stepfather demolish houses after work for the city of Binghamton. If he didn't have his job at Bates Troy, he would pass out newspapers at nursing homes to be of service to others.
Now in its 15th year, NYSID's Joslin Awards Program annually recognizes those who have overcome individual challenges to experience meaningful employment, personal growth and better choices. The Joslin Award is named for William B. Joslin, who served as CEO of Human Technologies, Utica, NY, and as a member of NYSID's Board of Directors for many years.
NYSID's Joslin Awards Program was established to honor Bill Joslin's unwavering commitment to Preferred Source employment opportunities and empowered lives. NYSID's mission is advancing employment and other opportunities for individuals with disabilities.