Canadian CEOs Confer on Reusables, Enviro Regs & More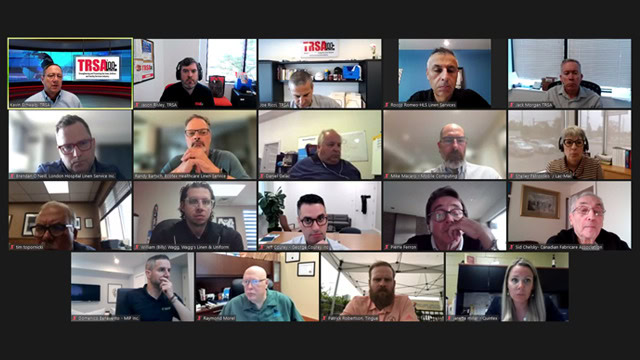 A group of 30-plus Canadian laundry operators and supplier partner executives discussed a range of regulatory concerns affecting the industry during TRSA's Canadian CEO/Executive Roundtable on May 16.
TRSA President and CEO Joseph Ricci kicked off the 90-minute online session by welcoming Canadian colleagues and inviting them to participate in an open dialogue on issues of concern such as wastewater-compliance rules and the need to promote the use of reusable healthcare personal protective equipment (PPE) in the aftermath of the COVID-19 pandemic.
Next, TRSA's Vice President of Government Relations Kevin Schwalb offered a quick overview of regulatory issues now pending before the U.S. federal government and among various states. Example include:
Pending restrictions on fleets using conventional fuels: California recently finalized rules calling on companies to implement 100% zero-emission commercial vehicles by 2035, a dozen years from now. Some 14 other states, including New York, Maryland and Colorado are following suit, modeling their restrictions on California's rules. Canada's moving in a similar direction – if not quite as aggressively – to mandate zero-emission vehicles. Click here for details. Schwalb noted that the federal or state governments could postpone the compliance deadlines but that's not guaranteed.
PFAS in wastewater: The U.S. Environment Protection Agency (EPA) and various states, such as Michigan, are implementing restrictions on wastewater containing per and polyfluoroalkyl substances (PFAS) that officials believe are linked to health problems in people. Officials have singled out a minute number of the roughly 5,000 PFAS compounds, such as perfluorooctanoic acid (PFOA) for strict limits. The EPA wants to dramatically reduce the use of these "forever chemicals" that don't break down in nature and are present in manufactured goods such as isolation gowns and fire-resistant clothing. Planned limits would allow only 4 parts per trillion of PFAS in wastewater, an amount so miniscule that it's almost undetectable, Schwalb said.
Microplastic pollution: State officials in California are considering requiring all commercial and consumer washing machinery to include costly filtering equipment to eliminate plastic waste.
For their part, the Canadian operators and suppliers in attendance said they're facing regulatory issues at least as challenging and in some cases, more so than those in the U.S. Tim Topornicki, president of Topper Linen Supply, Toronto, noted that he recently installed a dissolved air floatation system to remove excess oil and greases in wastewater prior to discharging it. The company also must pay carbon taxes on fossil fuels, a fee not yet widely imposed in the U.S. Another operator, Janette Millar, COO of Quintex Services Ltd., Winnipeg, noted that her company installed an expensive reverse-osmosis system several years ago to keep pace with the area's rigorous wastewater-compliance requirements.
On the healthcare front, Schwalb noted that TRSA is working both at the federal level and in various states to encourage the use of more sustainable reusable iso gowns and to discourage the home washing of scrubs and other healthcare workwear garments due to hygiene concerns. Schwalb noted that widespread shortages of disposables arose during the COVID-19 pandemic, as demand spiked and manufacturers – based mainly in East Asia – couldn't keep pace with hospitals' requirements. TRSA laundry operators stepped up to the challenge with reusable iso gowns that could be laundered and reused. Now, with the pandemic largely over, many hospitals are reverting to disposable PPE, thus leaving themselves vulnerable to future shortages should another pandemic arise. In response, Schwalb is leading an effort with members of Congress to send a letter to Secretary of Health and Human Services Xavier Becerra asking him to direct hospitals to maintain a 50-50 balance of reusable vs. disposable PPE to protect patients and healthcare staff. The draft letter also asks Becerra to have the agency conduct a study of the benefits of reusable healthcare PPE. As for outreach at the state level, a bill recently introduced in New York with TRSA's active support, would mandate that hospitals maintain a 50-50 mix of reusable vs. disposable PPE.
Canada faced a similar crisis of shortages of disposable gowns when demand spiked during the pandemic. As in the U.S., Canadian commercial and central laundries helped fill the gap with reusable gowns. Randy Bartsch, chair and chief executive of Ecotex Healthcare Linen Service, a Vancouver-based group of laundries, said that both the Canadian federal government, along with various provinces, through a special Pandemic Emergency PPE provisions order, procured millions of disposable gowns during the pandemic. The problem is many arrived too late to aid in the pandemic response. In Ontario, as an example, they now have more than 46 million surplus gowns in storage, many that do not meet healthcare specs. These emergency PPE items represent a "sunk" cost to the government, and their shelf life is limited, said Bartsch, who is also vice chair of TRSA. Healthcare in Canada operates on a "universal access" model and is funded by government through a "single payer" system. The federal government apportions tax dollars to each province to fund the full spectrum of healthcare provided by hospitals and community health facilities. While reusable gowns are used in Canada more extensively than in the U.S., laundry operators see pressure on hospitals to use up the disposable stock before its expiration date, thus discouraging replenishment of reusable stock.
Schwalb said TRSA would be happy to assist Canadian operators in their advocacy efforts regarding healthcare, environmental and other issues. Ricci closed the online program by noting that TRSA and Canadian operators and suppliers will have an opportunity to extend their discussions of policy and other business issues this fall at TRSA's Canadian Production Summit & Tours. Scheduled for Oct. 4-5 in Toronto, the program will feature expert speakers and networking opportunities, as well as tours of technically advanced plants. Watch for details in upcoming issues of Textile Services Weekly. Ricci encouraged anyone with suggestions for the TRSA event in Toronto to contact him at jricci@trsa.org.