EMI Co-Founder, Ex-IIL Chief Passes On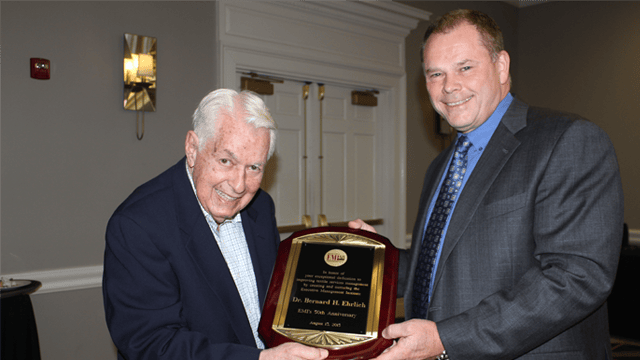 Bernard (Bernie) Ehrlich, 95, the founder of TRSA's leading educational program, the Executive Management Institute (EMI), passed away on May 18 due to an illness. Ehrlich's career spanned 42 years of leadership in the linen, uniform and facility services industry. He had a unique impact on generations of laundry operators who served under his tutelage.
With backing from Gerald Stempler, former operator of Textilease Corp. (sold to UniFirst Corp. in 2003), who passed away at 87 in 2018, Ehrlich co-founded EMI in 1965 to aid rising textile service industry executives preparing to lead family businesses by training them in various aspects of the commercial laundry business. Speaking to TRSA at an EMI 50th anniversary ceremony in 2015, Ehrlich noted that "the biggest asset that any company has is its people." He added that EMI develops company leaders. Alumni and observers have praised EMI not only for its high training standards, but for the sense of camaraderie it imparts to participants. For information on this year's EMI program, click here.
Jim Buik, an EMI alumnus, recalled Ehrlich as a groundbreaking leader of EMI as well as the Institute of Industrial Launderers (IIL), which was renamed the Uniform and Textile Services Association (UTSA) in 1992. "Bernard Ehrlich was a visionary who helped association members professionalize the industry by working on countless projects with staff and volunteers," said Buik, noting how Ehrlich had worked with Stempler to launch EMI. Other Ehrlich-led projects included:
Working with Buik's father Donald to help transition the industry from cotton garments to apparel made with poly-cotton blended fabric finished in a "Hot Box," the prototype of today's tunnel finishing systems.
Assisting in the research and development needed to perfect wastewater pre-treatment, Buik said.
Promoting industry marketing research studies to refine uniform-rental messaging through the "Twin Cities Project" – elements of which are still in use today to grow the market.
Buik noted during the 2015 EMI commemoration that "This industry would not be where it is today without Mr. Bernie Ehrlich, and for that we thank him."
On a personal note, Buik added that, "Mr. Ehrlich was a showman, and he loved to do things in a big way … like rent Disneyland for convention goers to enjoy the park in a unique way or sell out the Diplomat in Hollywood, FL, when the industry events exceeded 1,000 attendees. My fondest memory of my first day at EMI when I was running late and who is at the end of a long hallway tapping his watch … Bernie. Bernie cared deeply about our industry, his members and their families."
Another longtime operator, Dan Clark, chairman of Prudential Overall Supply, Irvine, CA, didn't participate in EMI, but his son John, now CEO of Prudential, did complete the program. Dan also worked closely with Ehrlich as the staff leader of IIL who led the association from 1947 to 1989. "I had a lot of good experiences with Bernie," Clark says. "He was very open to young people and helping young people get established. He realized that the 'young blood' was the future of the industry."
Clark recalled an East Coast vacation with his wife and three children when John was about 12 years old. Ehrlich dined with the family in Washington, DC. Clark said Ehrlich made a point of asking each of his children what they wanted to do when they were adults. "My son said, 'You know, that always had an influence on me, not necessarily what I wanted to do, but just that question,'" Dan said. "And John was lucky that at his last year of EMI was actually when they brought Jerry Stempler and Bernie back to celebrate the founding (of EMI)."
Born in Washington, DC, Ehrlich split his early years between the nation's capital and Pittsburgh before entering Harvard University. He interrupted his studies to serve in the U.S. Navy. A lawyer by training, Ehrlich spent 50 years as an attorney after receiving a law degree from George Washington University. He split time between his law practice and his leadership of IIL. He also worked briefly as a speechwriter for President Harry Truman and worked on pursuing amendments to the GI Bill of Rights legislation that was enacted in 1944. Ehrlich served as counsel to scores of companies and organizations, including service as a chief counsel to seven accreditation agencies that oversaw 1,000 secondary schools.
Survivors include his longtime companion Carol Kopelman; daughters Vivian Ehrlich, Silver Spring, MD; Beverly Mackereth of York, PA; and Brenda Ehrlich of Greensboro, NC; grandchildren Casey, Nicholas and David Mackereth; Shannon Mackereth Vecchio and Rachel Smith; and great-grandchildren Olivia and Zachary.
The family would welcome donations in Ehrlich's name by friends and former colleagues to the charity of one's choice.