Production Summit Features Brim, NTHCL Tours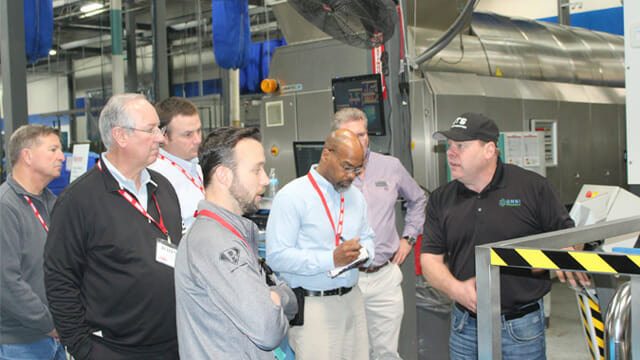 TRSA recently wrapped up a two-day Production Summit & Plant Tours program in Dallas. The first day featured educational content and networking with industry peers, with a pair of plant tours to close the event's final day.
The Production Summit kicked off on April 11 with an interactive workshop titled "Culture is the Key to Effective Onboarding and Retention" with Kevin Ames, the director of speaking and training at O.C. Tanner. Based in Salt Lake City, O.C. Tanner develops strategic employee recognition and reward solutions that help people accomplish and appreciate great work. Ames also spoke at TRSA's Workforce Management Summit and Safety Summit.
A panel presentation on improving productivity in your plant featured Peter Brown, business development, Mickey's Linen; Tyler Burke, executive vice president, Loop Linen Service Inc.; and Rich Kramer, vice president, City Uniforms and Linen. The discussion was moderated by Don Maida, senior consultant, TBR Associates. Additional presentations included "Enhance Business with Smart Phone Apps" by David Bernstein, Lapauw USA LLC; and "Minimizing Workplace Negativity to Boost Production" with Nancy Roberts, owner, The DISC Wizard.
Breakout sessions included the following topics:
Accident Investigation and Creating Incident Reports
Managing Quality Control
"Old School" Production Tools Meet the Future
Simplify: 5S Methodology in Your Plant
The event closed with tours of Brim Laundry Machinery, Hutchins, TX; and North Texas Health Care Laundry (NTHCL), Grand Prairie, TX. Brim purchased its 250,000-square-foot space in September 2013, and completely moved all its operations from its previous property in West Dallas in July 2014. The company produces more than 100 large-capacity open-pocket washer/extractors and tumbler dryers annually out of this facility. During the tour, attendees got to view where machinery such as Brim's Pacesetter line of dryers are assembled, tested and painted, among other areas.
Following the tour of Brim's facility, attendees moved on to North Texas Health Care Laundry, a 105,000-square-foot facility that serves more than 50 hospitals and 500-plus clinics. Processing 49 million lbs. of healthcare linens annually, the facility has achieved both TRSA Hygienically Clean Healthcare and Clean Green certifications. The tour featured the following areas of the facility:
Soil sort
Washroom
Dryer area
Boiler room/maintenance area
Scrub room
Pack room
Shipping area
The following companies had equipment in the plant:
Chicago Dryer
Consolidated Laundry Machinery
Ecolab Inc.
G.A. Braun
Kannegiesser ETECH
Lavatec
Omni Solutions
Standard Textile
TRSA hosted two other events in Dallas the same week. For information on the Workforce Management Summit, click here. For a recap of the Safety Summit, click here.